We're thrilled to announce that Rocket Bingo has been crowned the winner of the 'Best Jumpman Bingo Site' at the 2019 BingoPort Awards!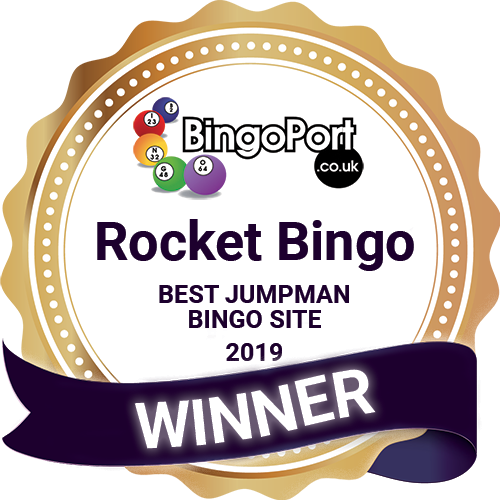 The BingoPort Awards are one of the most prestigious and best respected awards on the bingo calendar, a glitzy shindig that brings the industry together in exciting surroundings - this year in the rooftop gardens of a swanky Hilton hotel in London!
The BingoPort awards are based on player choice. Right from the shortlisting of brands into the various award categories, through to the casting of the all important votes - everything about these awards is decided by YOU, the players.
Our award category was 'Best Jumpman Bingo Site'. What's Jumpman? Jumpman is our operator (the guys that provide the bingo games) and there are many other bingo brands on the Jumpman network. Although we firmly believe we're lightyears ahead of the crowd, we have to admit there are a few shining stars amongst the bunch, particulary those that made it to the awards shortlist for our category.
Since 'blast-off' at Rocket Bingo we've been proud to call ourselves 'your bingo site', and we hope that scooping a player voted award in such a competitive category is a good sign that you still feel we're keeping true to that promise as we continue this bingo adventure through 2019 and beyond!
Rocket Bingo first became an award winning site in 2016 by blasting the competition to win a WhichBingo award. We'd like to thank each and every one of our players who took their time time cast a vote, helping us keep this award winning trend going into 2019.
If you've only just discovered Rocket Bingo then why not catch up on our story so far and once you've done, climb onboard and join us for the ride.
Thanks to all,
Tom 
Rocket Bingo Manager
About BingoPort
BingoPort is one of the oldest and best trusted bingo review sites on the net. They allow their members to earn points by playing bingo at various bingo sites. These points can then be redeemed for prizes such as 'Bingo Bonuses', 'Shopping Vouchers' or 'Tech goods'. Since launching over a decade ago, BingoPort has given away over £700,000 in prizes and their brand reputation and position as a renowned review site makes them ideal hosts for the bingo awards.