About Us
Rocket Bingo launched (pun intended) back in July 2014 and has since then been on an exciting journey through bingo space.
Now, with almost 5 years on the space clock, a couple of awards under our belt, numerous free bingo rooms and a few hand crafted loo roll rockets later (it was 2014), we're rapidly heading towards our fifth birthday!
Rocket Bingo was dreamt up by its owners, Meteor Marketing. We're operated by Jumpman Gaming Limited, a company licensed by the UK Gambling Commission & the Alderney Gaming Control Commission.
It's hard to believe that it's more than 5 years since our journey began but in that time we believe we've done our bit to offer something a little above and beyond the average Joe bingo sites.
Anyway, because bingo is amazing and also because pictures speak 1,000 words, we're going to let our snazzy timeline infographic below do the talking for us. Enjoy!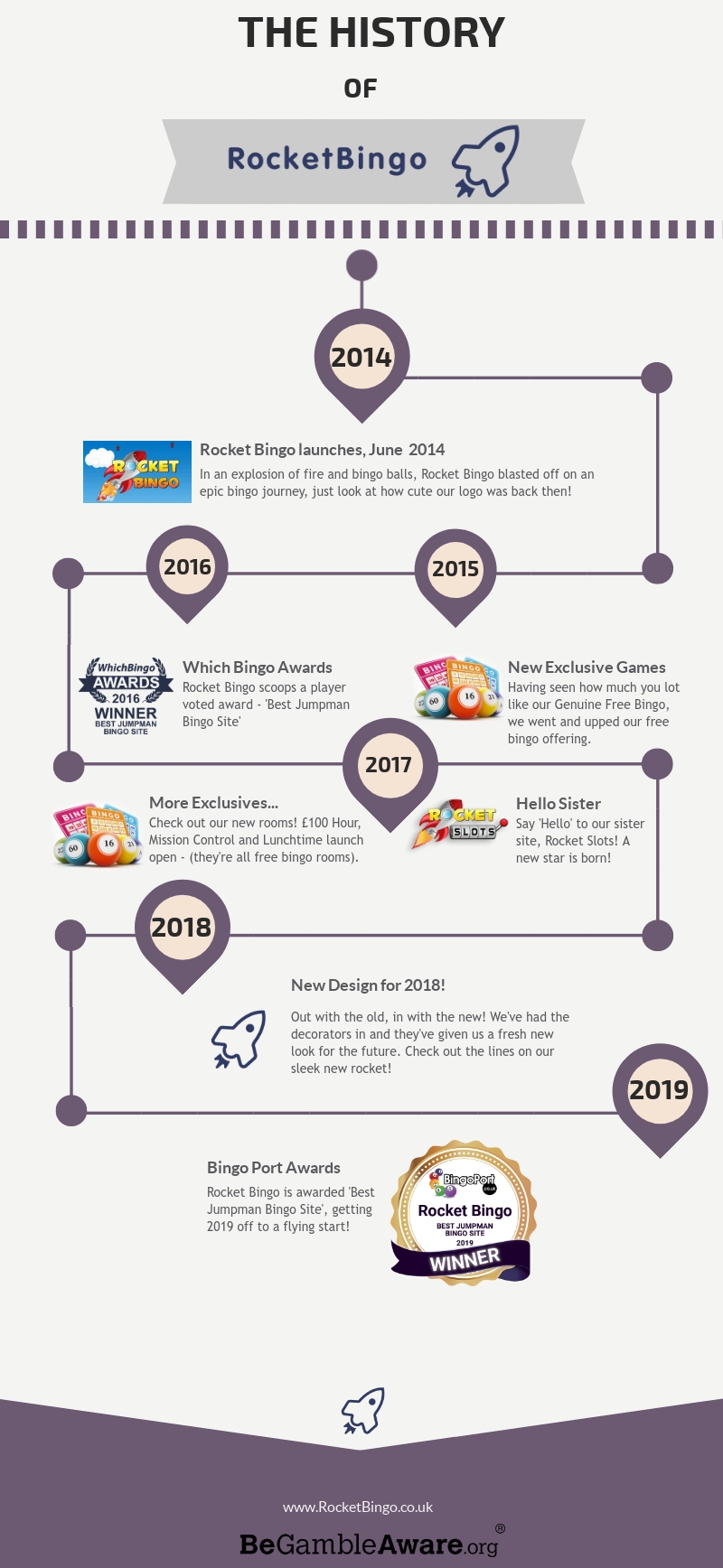 As you can see, in the fairly short time since our brand was born, we've managed to achieve many things - more than would fit on our timeline, actually.
A few of our favourite bits that didn't make the cut include hosting mega free bingo jackpots for our birthday parties and competitions such as 'Pimp my Pumpkin' and 'Loo Roll Rocket' - remember either of those? Seeing our players re-create our original logo using loo rolls will always be a highlight of our time on the go.
We're on a mission...
Going forward, 2019 and beyond, we hope to continue to deliver on our promise of being 'your bingo site'. What this means in reality is that we take your feedback seriously and try to incorporate it into our offering going forward. This is how it works: In 2015 you told us you liked our Genuine Free Bingo game, in 2015 you got more free bingo rooms where the ticket price has always been nil. Boom!
More bingo and slots
With a total of over 600 games in our fast growing collection it's fair to say that we're now one of the bigger bingo sites on the market. We're constantly working to add new titles (slots and bingo) to our collection and behind the scenes, our spacemen and women are busy schmoozing the developers who make the best games in order to ensure the biggest and best titles are added to our site as soon as possible. We're proud to say that in 2019, we now work with the likes of Micrograming, NetEnt, Playson and PragmaticPlay - these are some of the best game developers in the industry.
If you're just getting onboard, we welcome you and if you've been with us for the long haul, we salute you and wish you happy bingo-ing for years to come! And remember, if we can be of service to you, we're only a web chat or email away!