Bingo
At Rocket Bingo we love bingo, it's what we do! That is why since we blasted off back in 2014, we've taken pride in providing a huge selection of bingo games to make sure there's something for all! If you're here to find out about our games, simply skip to the next paragraph. If on the other hand you'd like to know a little more about our favourite game, read on a little - we've got some trivia treats in store and even a fancy infographic!
But first, let us tell you more about what we do best...
All About Our Bingo Games
Our bingo games offer some fantastic opportunities to win real money and most of the time, the tickets prices are pretty modest! We offer several different options for 75, 80 and 90 ball bingo at all different price points. By appealing to as many different players as possible, we've gathered a family of unique individuals who all have one thing in common; a passionate love of bingo.
How We Can Boost Your 'Bingo Life'?
We want you to have the best time playing bingo as possible. Therefore, we sat down and thought up some of the best ways we could boost your 'bingo life' to be even better...
Rocket Bingo is also home to a wide variety of slots and we have geared a lot of our promotions towards them. You have plenty of opportunity to grab some free spins and boost your winnings even further. Only real money can be used to play our slot games but you can still use the spins to grab yourself a little bonus such as additional spins of our wheel and trophies.
Best for Bingo!
What else can we say? We offer great bingo games every single day and the chance for you to grab prize after prize. With £1,000's being paid out through our jackpot wins every month, plus more from our regular bingo games, you should definitely get in on the action.
One thing is clear, everyone who comes to Rocket Bingo is indulging in a passion for bingo in all its forms. We have worked hard to provide you with a great place to play and we hope you enjoy your time with us.
A Little About Us
We have been a prime destination for bingo lovers since our inception in 2014. Our team is formed of top talent with years of industry experience and we are determined to create the best online haven for bingo that we can manage!
We are part of the 15 Network, part of Jumpman Gaming's gambling networks, and in 2016 we were awarded Which Bingo's 'Best Jumpman Gaming Bingo Site' award and in 2019, a Bingo Port Award. These awards are voted for by the community -hopefully an indication that we're getting things right.
History of bingo games
We promised at the top of this page that we'd bring you some bingo trivia and history of the game, so first off, take a look at our infographic. Does anything surprise you?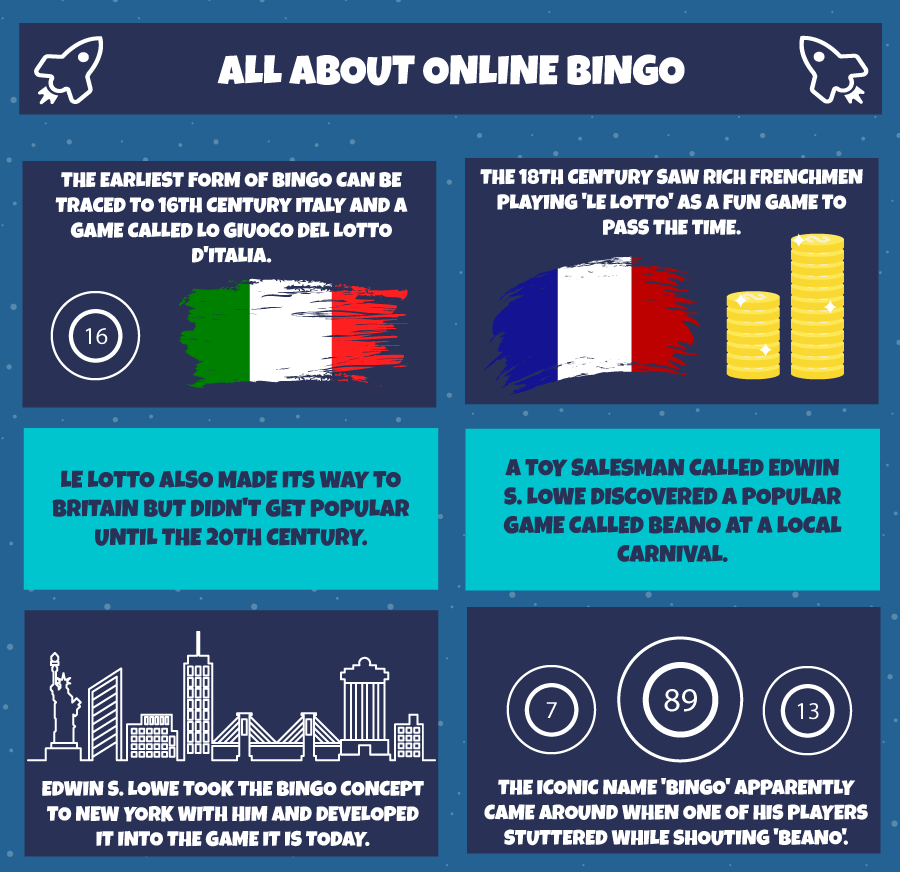 A History of Bingo
The early history of bingo is shrouded in long-forgotten mystery but there are some things we can piece together. The earliest form of bingo can be traced to 16th century Italy and a game called Lo Giuoco del Lotto D'Italia. The 18th century saw rich Frenchmen playing 'Le Lotto' as a fun game to pass the time and a similar game was used by German children in the 19th century to teach maths, history, and spelling. 'Le Lotto' also made its way to Britain in this time but it was not until the 20th century that we saw a true "Bingo Boom".
In 1929, a travelling toy salesman by the name of Edwin S. Lowe was visiting Georgia when he happened upon a popular game called 'Beano' at a local carnival. This game involved a number caller and players placing beans upon their cards when they heard their numbers. Lowe took the concept back to New York and developed it further. The iconic name 'Bingo' apparently came around when one of his players stuttered while shouting 'Beano' for a win.
Together with a mathematics professor called Carl Leffler, he developed the game into what we know and love today. As well as producing the bingo cards, he also developed the well-known game Yahtzee.
Bingo as we know it today can be split pretty comprehensively into 90-ball and 75-ball varieties. The 90-ball bingo is more common in UK bingo halls and is therefore sometimes referred to as British bingo. There are 3 possible wins in these games, a line row, 2 line rows, or a full house when all 15 of the numbers are called. A key characteristic of UK bingo is also the rhymes which accompany the numbers, such as "Tickety-boo, 62", or "Torquay in Devon, 87". If you visit a live bingo hall as opposed to our online ones, you are bound to hear these calls at some point during the evening.
75-ball bingo is played predominantly in the USA. Only a full house can win the game, making 75-ball games much slower and more intense than its 90-ball cousin across the pond.
Both varieties have their own merits and both are tremendous fun to play. We offer mainly 90-ball bingo at Rocket Bingo but we think both games are great to play. If you are more familiar with one style of bingo, you should definitely consider trying the other to give yourself as full a bingo experience as possible!
Why the UK Loves Bingo So
Whether it is 90-ball or 75-ball bingo, Brits are still as in love with it as ever and there are many, many people picking up the gauntlet to give it a go for themselves. There are clubs up and down the length of these isles which can cater to everyone's tastes.
It makes for a cheap but cheerful night out and is quickly being picked up for crazy reinventions and new twists to keep young new faces constantly coming through the door. Student nights, themed events, and other gimmicks are all being used to pull in the crowds.
Online bingo is also enjoying a healthy, steady climb. Like our rocket rising through the atmosphere, bingo games are remaining as popular as ever. It is estimated that 100 million people play online bingo around the world. What a family! This fantastic online community is always on the hunt for the latest deal and the best place to play, giving websites like ours plenty of space to off quality bingo experiences.
One thing is clear, whether you prefer to play in a club or online at a great site like Rocket Bingo, bingo is not going anywhere any time soon!