Mobile Bingo - Play Anywhere with no download required
Everyone is always searching for the perfect bingo site. You want great wins, great games, and a great site to play on. Look no further than Rocket Bingo. We may not be the oldest site on the market but we firmly believe we are one of the best.
In addition to all of this, many players want to be able to play across any device they own. Something that frequently comes with this desire is the need to play on a bingo site which is optimised for mobile play. Rocket Bingo is exactly that! Read on to find out all about mobile compatibility and optimisation and why it is so important for your fabulous games of bingo!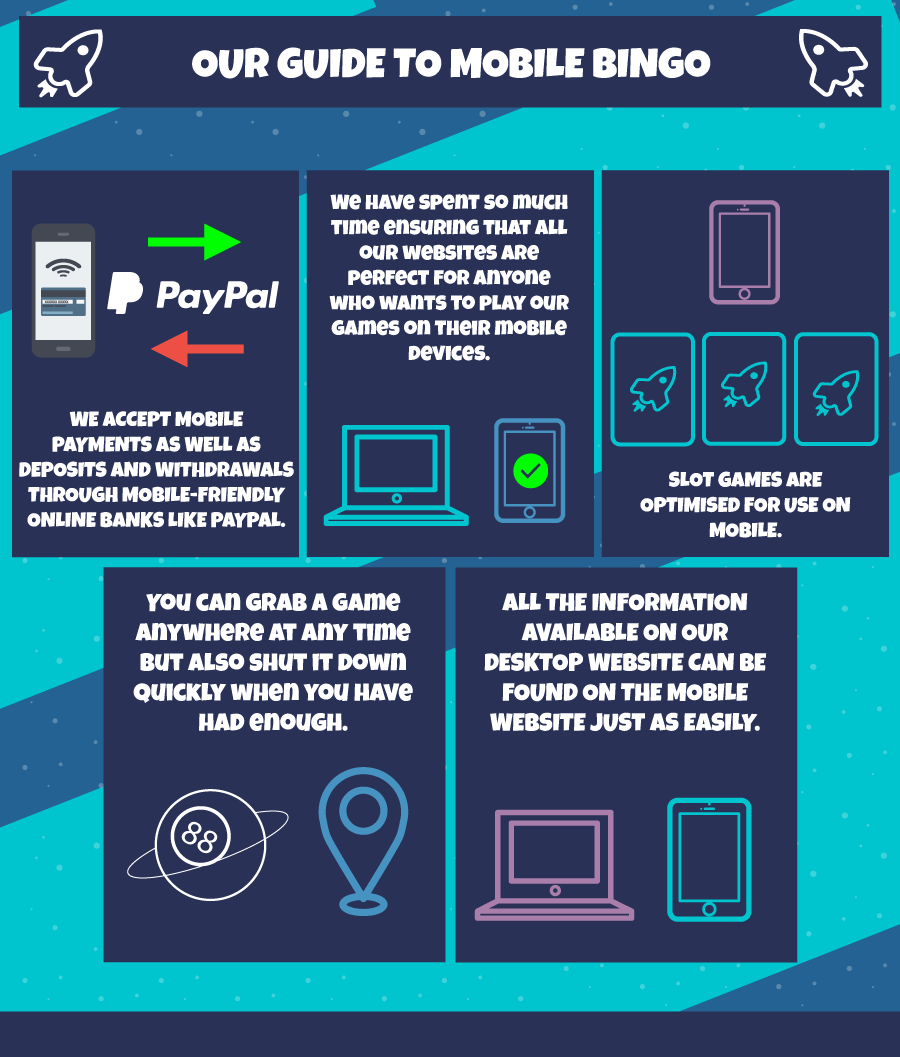 Why Mobile Play?
Consumers love to be able to play online games. Whether it is a cheeky spin on slots while waiting for the bus or a quick game of bingo in front of Saturday night television, mobile gaming allows you to play any time, anywhere.
This is part of their great appeal. Traditional gaming consoles like PlayStations or Xboxes require quite a bit of gear and are not the easiest to transport around. Laptops are becoming more and more portable with every year that passes but you still cannot access the Internet without a WiFi connection or the relevant dongle. A mobile device like a phone, however, can be used to play games wherever you have a signal.
Games are also rapidly becoming cheaper to play and more impressive to look at. While the former point may not affect the bingo market that much, the second most definitely will. With every new graphics innovation, the mobile game developers are looking to see how they can bring these new features to their own games. Who knows how amazing a humble game of online bingo will look in a few years?
Rocket Bingo is always on the hunt for the most up-to-date and memorable games we can find. Keep checking in to see what new treats we could have to offer you.
Compatible vs Optimised
When browsing online you will frequently encounter two phrases floating around; mobile compatibility and mobile optimisation. Are they interchangeable? What exactly do they mean? Let us explain.
Nearly every website on the internet is mobile compatible, even if you did not write that specific code when designing the website. It is quite simple to test. If you can access the website through your mobile then it is indeed mobile compatible!
What you really need to keep an eye out for is mobile optimisation. This is the real gem that will make all online interactions super easy when browsing online. A website which has been mobile optimised has been designed to be navigated directly from a mobile browser and not one on a desktop.
Any company expecting large amounts of website traffic through mobile devices should make sure they have a mobile optimised website. By not having one, you run the risk of driving away traffic who find your desktop-ready website difficult to navigate on their smaller screens. Having to zoom in just to click a link is frustrating and time-consuming so it is easy to understand why so many people prefer to just click away instead.
The easiest way to tell if a website is optimised for mobile usage is to visit it for yourself on multiple devices. You can try it for yourself right now with Rocket Bingo! On your laptop or desktop, visit the home page of our site. Looks good, huh? Now open the browser on your phone and go to Rocket Bingo again.
The websites do look very similar but there are some crucial differences. Everything on the mobile website has been changed to fit the width of your phone screen so you do not have to scroll from side to side. Furthermore, the log-in form and navigation links – which can be found in the top ribbon of the desktop website – have been hidden behind pop-ups on the mobile website. It is easier for you to navigate and makes the small screen much less cluttered!
How do Developers Help?
Mobile Gaming would be nothing without the developers behind it. As mentioned above, they are the ones pushing forward with the innovations which keep this genre of gaming so interesting. However, they do a little more than that too.
They also provide top quality games which are fully optimised to play on mobile devices from the get-go. Their commitment to producing these high calibre games helps to drive the industry forward and helps to set mobile optimisation as a standard, not an option. Most slot games nowadays are optimised for mobile use with only the first few generations remaining as desktop only.
By producing games that are mobile optimised from the beginning, the developers are driving forward the innovation used to make this sector so brilliant. We are proud to host games from so many wonderful developers which you are able to play no matter which device you choose.
Why Chose a Jumpman Site?
Rocket Bingo is a proud member of the Jumpman Gaming family. When looking for a new place to play bingo, you should definitely check out Jumpman Gaming.
Jumpman is one of the biggest gaming companies out there and the mastermind behind two networks; the 15 Network (to which we at Rocket Bingo belong) and the Wheel of Slots network. Both of these networks have some fantastic opportunities and games for you to explore. There are also some guarantees you will discover across all of Jumpman's sites, which we will now explore in a little more detail.
Easy Browsing
As mentioned, Jumpman sites like Rocket Bingo are fully optimised for mobile use. This means that they are super easy for anybody to navigate. You can find all the information you need across the site; whether that is a great game, a fantastic promotion, or an answer to a query in the FAQs. We have ensured that it is easy for you to do everything it is possible to do on our website with the greatest of ease.
Top Bingo
The main draw of Rocket Bingo and many of Jumpman's other sites is the fabulous bingo games on offer. You can play both 75 and 90-ball bingo for various prices and various jackpots and we even throw in the occasional free game to make the win that bit sweeter.
Of course, all our bingo games are mobile-optimised. This means that you can enjoy them no matter where you find yourself. Whether you are sitting down in your own home for some planned bingo time or thinking about just quickly grabbing a game on the go, we are here to support your wishes! No download required, just an Internet connection! If you fancy a game of bingo then we are here to help!
Lots of Slots
Here at Rocket Bingo, we try to offer you a complete gambling experience. Therefore, if you find yourself without a bingo game to play, you might want to take a look at our selection of slot games! With titles from Red Tiger, Just For the Win, and Barcrest, you are sure to find something to delight you.
Of course, every single one of our slots can be played on mobile devices. Their developers know that players love their games on both mobile and laptop devices and always try to provide options for both.
What Else Can We Do by Phone at Rocket Bingo?
At Rocket Bingo, your phone isn't just your controller! We offer pay by mobile slots as well as deposits and withdrawals through mobile-friendly online banks like PayPal. All your financial data is as secure through a mobile device as it is through any other device. You can pay and play with the touch of a button.
With mobile play, everything is in your hands at all times. You remain in full control at every minute, allowing you to plan your gaming session in advance and control exactly how you want it to play out. You can grab a game anywhere at any time but also shut it down quickly when you have had enough.
Which Platform is Right for Me?
Deciding which platform is right for you can be a tricky decision. PC and mobile both have their own advantages and disadvantages when it comes to a variety of issues users may face. However, we wish to focus on their suitability for bingo and slot play. We have put together this small table to help you work out which platform would be right for you when it comes to these gaming preferences.
Jumpman is committed to ensuring that we always deliver high-quality websites that can be accessed wherever you happen to be. Even if Rocket Bingo cannot tempt you, other websites in the Jumpman family offer plenty of high-quality opportunities for you to enjoy. When choosing to play a game through us, you know that you will always be playing a game developed by an industry leader on a safe and award-winning host.
We try to offer the safest and most comprehensive gaming experience that we can. Whether you want to play on a mobile device or on a PC desktop or laptop, Jumpman Gaming will support you for as long as you want to play. 
Mobile is Best
We have spent so much time ensuring that all our websites are perfect for anyone who wants to play our games on their mobile devices. Whether you are playing on Rocket Bingo or another game in the Jumpman's networks, you will never have a problem navigating our websites on mobile. We have made sure to provide online platforms which are fully optimised no matter how you are choosing to browse.
All the information available on our desktop website can be found on the mobile website just as easily. We have placed everything at your fingertips for some fantastic and quick navigation.
Unlike playing on a computer, mobile play also helps you to focus on the game at hand. When on a laptop, you may be tempted to have your bingo in one window with something else in another; a TV show, that sale you've been meaning to check out, a group chat with your family or best friends. You are not focused on your bingo entirely which means you could lose out on that winning call!
With mobile bingo, you are focused on the game and the game alone! Yes, you may also be watching TV or doing something else in the real world. Multitasking is a part of everyday living! However, having your attention focused down on the smaller screen means you are watching the game more closely and ready to pounce on your big win.
Would you rather jump up in celebration of a jackpot prize or kick yourself at an opportunity which slipped through your fingers while your mind was elsewhere? We know which one we'd rather do! Play on mobile and concentrate on the game at hand to grab your wins when they fly towards you.
What's more, we think our games are best enjoyed on mobile devices. Just like a rocket soaring through the sky, we think bingo and slots can be enjoyed in a quick blast. This makes mobile the ideal platform to play on. Instead of having to sit down, fire up the computer, and check that everything is ready to play, you just need to pull out that little rectangle you use so often throughout your day. It is that simple.
Phone, camera, mP3 player, and now your gateway to a great game of bingo.